How to get started learning web5
The internet predictably went berserk on June 10th, when Jack Dorsey announced plans to build "web5". To be precise, web5 would be the name of a new product launched by TBD, a Bitcoin-focused subsidiary of Block. But precision hardly mattered amid what amounted to a civilization-scale test of humans' ability to process satire.
Surely, at some level, the name web5 was intended as a joke. And yet, the technology behind what Dorsey dubbed web5 is in fact very real, and may significantly shape the future of the internet.
How do I know? Well, by dumb luck I started exploring web5 late last year. I've read the seminal web5 literature, tested out web5 products, hacked on web5 code, and traveled across the country to meet members of the web5 community.
Of course, the subject of my exploration wasn't called web5 at the time. And by most accounts, it isn't called web5 today either. But thanks to Jack Dorsey's publicity stunt, the term has attracted some attention to the topic of "decentralized identity" and "decentralized web nodes", the actual un-memeified technologies powering TBD's work.
But names aside (and I'll stick with "web5" for sake of this post), what are all of these things, and how can you get started learning about them?
Problems with web2 and web3
It may help to start off by explaining what problem web5 is attempting to solve. Most functionality on today's internet (a.k.a. "web2") is built using simple client-server architecture. Web applications are generally designed as server-based applications, to run by the software provider. And end-users interact with those servers via client-side applications, often run in a web browser.
The client-server architecture is simple, and allows end-users to access software without having to run any of their own infrastructure. But that simplicity comes with downsides for both users and software providers.
The first downside is a lack of data portability. In the client-server architecture, each application is by default an information silo. If any given internet user (let's say "Alice") uses ten different apps, that will result in ten different representations of Alice, even though Alice is only one actual person. This situation is clearly inconvenient to Alice, who has to maintain her account information in ten different places. But it's also costly to the software providers, all ten of whom need to onboard Alice from scratch -- even if her identity and reputation are already well-established by other services Alice uses.
The second downside is lack of privacy. With all data stored server-side, users have effectively no control over how their personal information is used. Although an application's "terms of service" is a binding legal document, typical internet users don't have time to read them -- and moreover, they lack visibility into whether software providers are adhering to them. Although this dynamic is occasionally advantageous to software providers, those advantages are often outweighed by the cost of securing their data and complying with the latest data privacy regulations. In other words, nobody wins.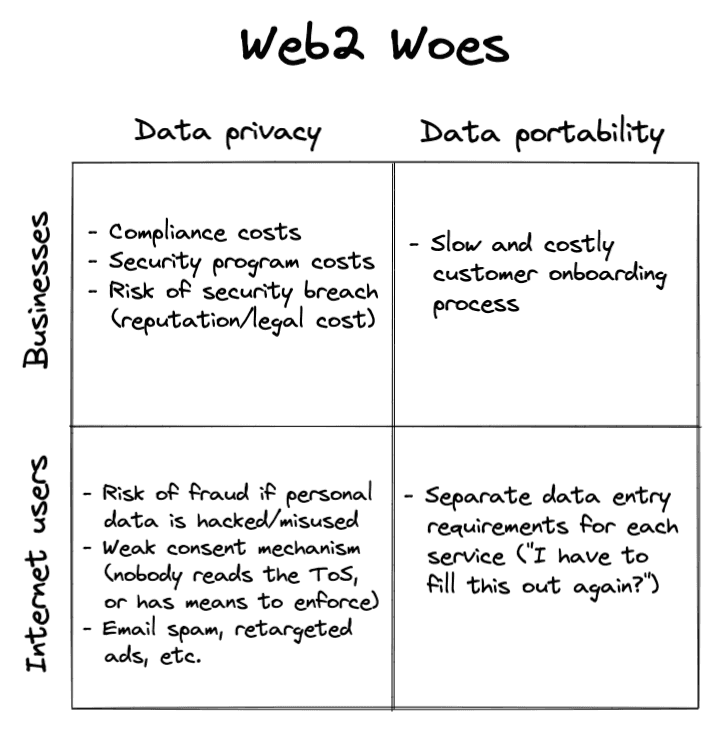 It's a software engineering truism that all architectures have advantages and disadvantages. The presence of disadvantages doesn't mean that using a particular architecture is a mistake. But as the importance of the internet grows, it's worth asking: do the tradeoffs we've made in the past continue to make sense? And if not, what are our alternatives?
Web3 has already shown us one potential solution to web2's data portability problem. By using the public blockchain as a sort of global storage layer, web3 applications allow users to bring their data with them from one application to the next. No more onboarding forms -- just "Connect with Metamask" and you're done.
But web3 fails quite spectacularly on the privacy front. After all, data on the public blockchain is just that: public. The same mechanism that allows web3 apps to seamlessly share data also exposes the same data to ~8 billion other humans. Granted, that radical transparency makes web3 an exciting social experiment. And lack of privacy is arguably less of a problem for users who remain pseudonymous, identified only by their crypto wallet addresses and monkey GIF's. But it also makes the standard web3 architecture unfit for use cases that require any measure of privacy.
Today's web3 has a number of other shortcomings that make it a poor successor to web2. To name a few: lack of a consent mechanism for transaction recipients, lack of support for key rotation or account recovery, and challenges with verifiability of NFT's. For a more thorough discussion, I'd refer you to this talk at ETH Denver '22 by Disco founder Evin McMullen, and this blog post by Signal founder Moxie Marlinspike, reflecting on his first impressions with web3.
All told, web3 hints at a better internet, but doesn't get us there. It gives its users frictionless data portability and strong guarantees of censorship-resistance. But it does so by sacrificing privacy, limiting its potential for use in mainstream applications.
Enter web5
Luckily, it's possible to keep the good parts of web3 while improving on its privacy properties. And as you probably saw coming, thats what web5 is all about.
Web5 empowers users to retain physical possession of their data by giving them the digital equivalent of a wallet. This approach will sound familiar to web3 users who are accustomed to using a digital wallets to store their private keys. But web5 takes it to the next level, allowing users to store much more than cryptographic keys. Just as in the physical world, the web5 digital wallet is a place to store ID cards, membership cards, payment cards, key cards, professional or educational credentials, and so on -- really anything you might need to show as "proof" as you go about your day-to-day.
Conveniently, this approach solves the data portability problem from the outset. If users maintain the master copy of their own data, there is, logically speaking, no need to keep it updated elsewhere.
But giving users physical possession of their data is the easy part. The hard part is figuring out how to build working software under this paradigm, preserving the sort of functionality we enjoy in web2 and web3. Broadly speaking, two problems need to be solved to make user-held data usable for building real applications:
Communication. In web5, end-users directly mediate access to their data. This is a radical departure from both web2 and web3, both of which allow developers to assume the data they need is just a network call away. Developers of web5 applications will need a way to locate, securely communicate, and request specific information from their users.
Data integrity. If users are in physical possession of their data, they can also easily modify it. Both web2 and web3 come with some data integrity safeguards. Databases can be secured at multiple levels, and blockchains provide their own data integrity guarantees. For use cases where data integrity is a concern, web5 applications will need their own mechanisms to guard against data tampering.
How web5 works
The pioneers of web5 have worked hard over recent years to solve those exact problems. Today, there is a wide array of technical standards, software libraries, and commercial products available for developers who want to get started building.
Although it's too early to say what exact technologies will eventually gain traction, there is general agreement on high-level architecture and components needed to make web5 work. Here are the key concepts: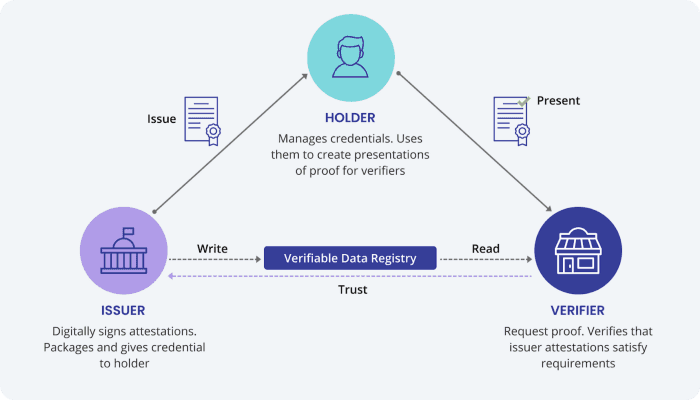 Put together, these primitives enable a new level of privacy and trust on the web. End-users benefit from fine-grained control over what information they share. Businesses and other organizations benefit by tapping into knowledge of their users's existing trust relationships. We get the portability properties of web3, and better privacy properties than web2 or web3.
But we said earlier that all architectures have advantages and disadvantages. So, what's the catch with web5? Of course, web5's not-so-hidden weakness is its complexity. The diagram below shows the basic architecture of web2, web3, and web5 side by side: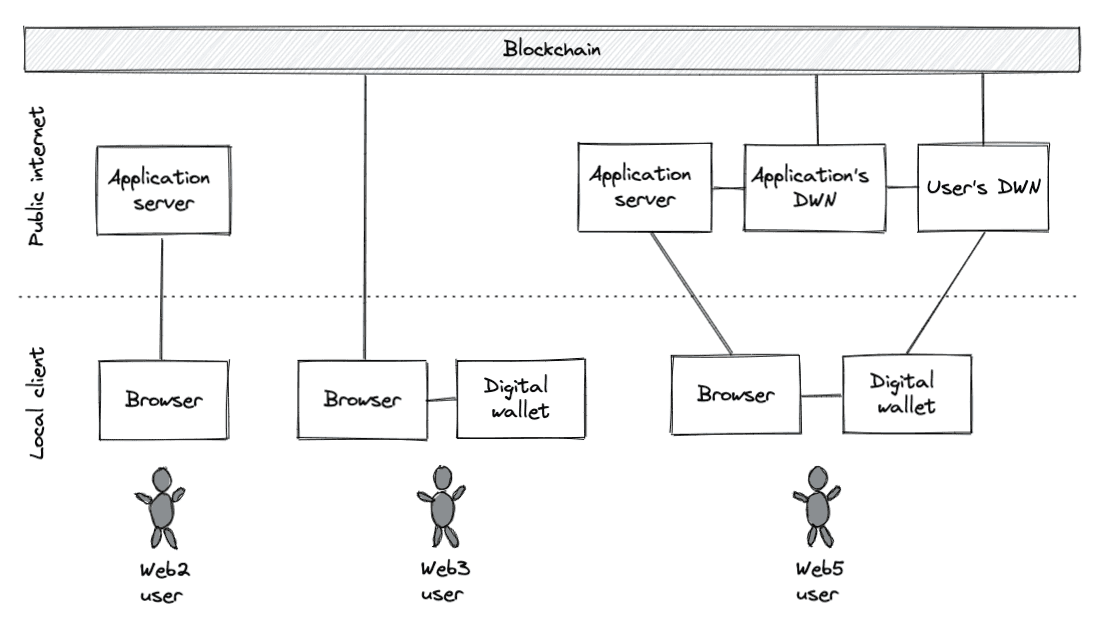 To put it mildy: this complexity won't make it any easier for web5 to gain traction in the real world. Developers will have to learn new architectural concepts and protocols, users will have to adjust to new interaction patterns, and tech companies will have to offer new products using commercial models that don't yet exist. And as Firefox CTO Eric Rescorla points out at the end of his recent blog post exploring web5, we also must face the difficult task of defining domain-specific protocols on top of web5's more general-purpose scaffolding.
For those reasons and more, web5 is not inevitable. But the work of bringing it to life is already underway, and doesn't seem to be slowing down.
Down the rabbit hole
For those interested in exploring web5 further, I've organized some of the references on the topic that I've found helpful. I've made no attempt to be comprehensive, and instead just did my best to assemble a diverse and high signal-to-noise list. It should be plenty to get started!
Learning resources
Demos
Communities and events
Companies
Standards and specs
Open source projects
Twitter accounts